How We Teach Reading at Woolmore
At Woolmore, we believe that learning to read is one of the most important things your child will achieve at our school. A positive first experience of reading can shape a child's love of books and help to develop every aspect of their learning, so we put enormous effort into making every child a reader as quickly as possible. Throughout their time at Woolmore, children are exposed to a wide range of engaging and diverse texts through shared, guided and independent reading, giving them solid foundations for starting secondary school.
For a selection of books that are recommended for primary aged children, go to this site: http://schoolreadinglist.co.uk/
In Nursery, children learn to: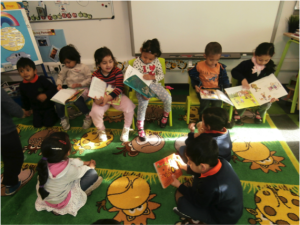 Listen to and recognise a range of stories and poems.
Show simple awareness of rhyme and alliteration.
Suggest how a story might end and describe story settings and characters.
Look at books independently, handle them with care and turn pages correctly.
Know that print carries meaning and words are read from left to right and top to bottom in English.
In Reception children learn to: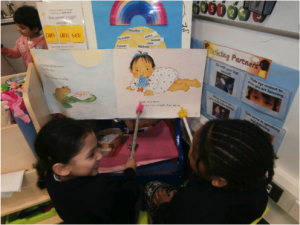 'Read' the sounds in words and practice writing these sounds.
Use phonics knowledge to decode regular words and read them aloud accurately.
Follow the Letters and Sounds and Ann Smalberger's phonics programmes.
Practise reading and spelling 'sight words' (words that cannot be sounded out are learnt by sight – see the word, say the word), such as: 'once', 'have', 'said' and 'where'.
Show simple understanding when talking to others about what they have read.
Practise reading books that match the phonics phases they are learning by blending and reading 'sight' words.
Read the 45 high frequency words (HFW).
Phonics at Woolmore
At Woolmore we teach systematic synthetic phonics from Nursery to Year 2. Our principal aim is to develop the children's phonological awareness, ability to segment and blend words and read sight words on sight.
In the Nursery Phase 1 is being taught using Letters and Sounds. From Phase 2 onwards, phonics is taught using Ann Smalberger's (Literacy Consultant) lesson plans which follow the Tower Hamlets Phonics structure.
Phonics is taught daily for 15-20 minutes. The majority of children in KS1 are taught in a whole class setting. Individualised support programmes are in place for children who require additional support.
Key Stage One and Beyond: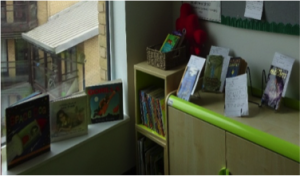 Children continue to complete our phonics programme up until the end of Year 2. Some older children will continue to consolidate further in small groups or one-to-one where necessary, as they progress through the school. We use a range of reading scheme texts for individual and guided reading, which are colour coded using book bands and Reading Recovery levels. In addition to this, the children have access to a wide range of fiction and non-fiction from the class and school library. Book choices are encouraged and monitored, where appropriate, by class teachers and teaching assistants.
Guided Reading
We deliver Guided Reading sessions across Key Stage One and Two, where children are grouped with others of a similar reading level to complete a variety of activities during the week. Activities include a teacher guided group and other tasks or activities relating to the children's assessment focuses.
Tracking and Progress
Class teachers assess children's reading skills regularly so that we can ensure they are making good progress in both decoding words and understanding the text. Children who are exceeding their targets are encouraged to choose challenging and diverse reading material, with differentiated work to stretch them. Any children who are not making good progress will have additional support/intervention. Our school librarian also works with targeted book club groups to provide additional support/challenge.
Reading for Pleasure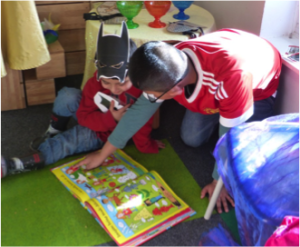 We know there is strong evidence to linking reading for pleasure and educational outcomes. We firmly believe that reading for pleasure is as important as learning good reading strategies. Research shows that reading for pleasure can result in increased empathy, improved relationships with others, reduction in the symptoms of depression and dementia, and improved wellbeing. In addition to the health benefits, reading for pleasure has social benefits and can improve our sense of being connected to the wider community. Reading increases our understanding of our own identity, improves empathy and gives us an insight into the world view of others.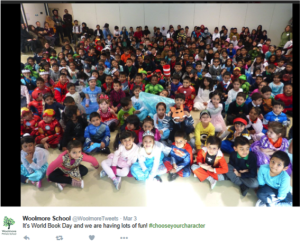 We plan for exciting days and events linked to reading such as World book day, author visits, poetry slam competitions and reading mornings with parents. All of these events are designed to create a 'buzz' around reading and re-engage and inspire our children to continue developing as readers.
We invest heavily in our Silver Birch school library – purchasing a large collection of exciting and engaging books to suit all types of reading preference. We have a school librarian and a team of children who support them in maintaining and promoting our school library. The library is open to children and families to borrow books, e-readers, DVDs, seek advice from our librarian, join book clubs or train to become a student librarian.
We also aim to help children to see books as treats by offering them as rewards for different things throughout the year.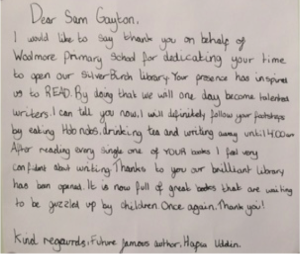 Our adults model a love of reading by sharing their reading preferences, encouraging children to share favourite books with classmates and promoting a passion for reading by reading aloud quality literature during daily story times.
Reading Across the Curriculum
We provide as many opportunities as possible for children to learn within a thematic curriculum. Books and reading materials are often chosen to support children with their understanding of their current topic – both in terms of gaining knowledge and understanding and also developing an interest and a willingness to learn about their topics in greater depth.
Parental Support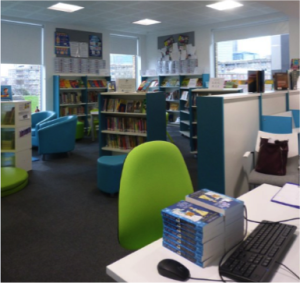 As part of the home/school agreement our pupils are expected to read regularly at home with parental support. Parents are given information about what reading skills we expect children to achieve during each year group, they are also given guidance about how to help at home. In addition, we host workshops for parents where they can learn about what we do in school and how they can best support their children's reading at home.
March 2017